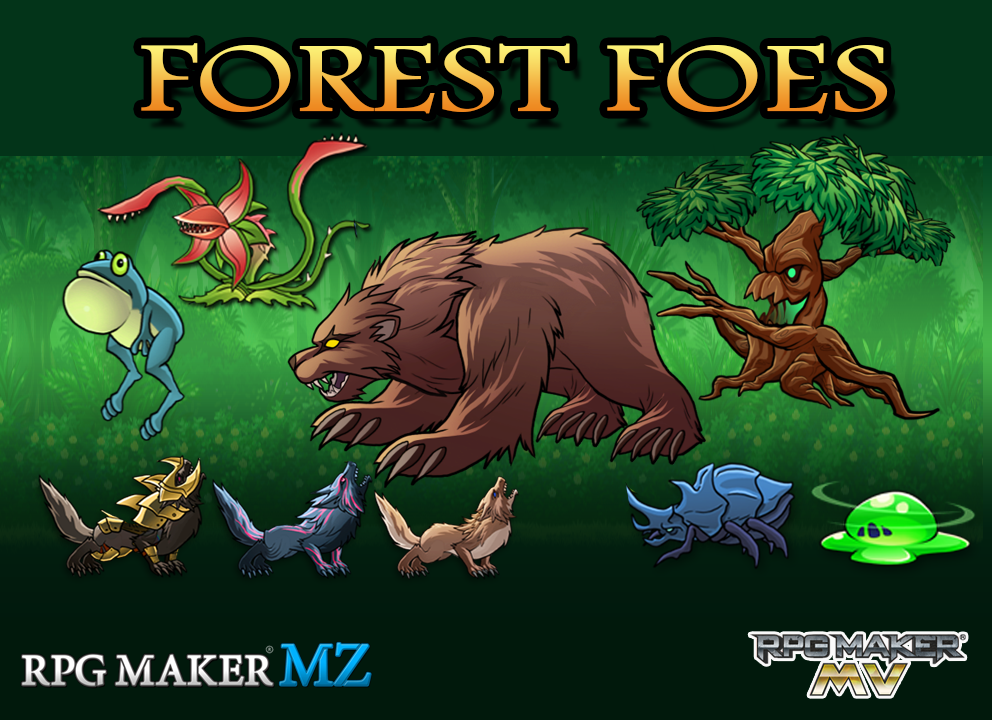 ForestFoes
A downloadable asset pack
Get this asset pack and 16 more for $192.00 USD
View bundle
This pack contains fully animated sprites. Each creature comes in a handful of different colors or designs for variety. Fully animated sprite sheets optimized for RPG Maker MV/MZ.
Max resolution files are also included for resizing purposes.
Latest addition: Owlbeast
Foes:
Wolf
Magic Wolf
Armored Wolf
Wind Slime
Plant Monster
Beetle
Treant
Frogs
Bears
Owlbeast
Terms of Use
1. Contents may be used in free or commercial games.
2. 'Robert Pinero' must be given credit in your games.
3. You are NOT allowed to redistribute these graphics in any way shape or form other than packaged in your own game.
More enemies will be added to these packs regularly as free updates so check back or follow me on twitter:https://twitter.com/RobertPineroArt
Max resolution files are also included for resizing purposes.
Samples and action sequences possible thanks to: Plugins: https://visustellamz.itch.io/
Action Sequence Basics by https://akratichuman.itch.io/
Purchase
Get this asset pack and 16 more for $192.00 USD
View bundle
In order to download this asset pack you must purchase it at or above the minimum price of $12 USD. You will get access to the following files:
Comments
Log in with itch.io to leave a comment.
The bears look awesome any chance at a Owlbear? asking for a friend...
that's a good suggestion. I'll put it on my list.
the wolfs have bad height in your picture 1300
Thanks for the notice. I have updated the pack to resolve most of the wolves. I will be correcting them as I go thanks.
do these come with map sprites?
could I commission some from you?
Unfortunately I don't specialize in pixel art sprites. If you want 4 directional map sprites in a more 2d drawn art style then that's something I can do.
Is there a way to make the images face the opposite way (other than flipping them in something like photoshop)? The example images all seem to be facing to the left, but enemies in RPGmaker MV/MZ face the right in the sideview system.
thanks for feedback. I think I'll update them and add a static sideview single image for each enemy. If you use a plugin for these as enemies it automatically flip them to face right. So that's already working as is.
Nice! How many of these packs are you planning on making, if you don't mind me asking?
I am working on a beachside set, undead set, underworld set currently. They will also each get occasional added enemies at no extra cost. I'd like to cover all the common favorites.